Do you need some ways to get a luxurious home on a budget? Glossy magazines are full of fabulous designer homes with covetable furniture and furnishings. But if we don't have the budget to employ an interior designer and shop in swanky stores, how can we afford the luxury look? By selecting the touches that will make our home look like we've spent so much more on it. Try these ways to get a luxurious home on a budget …
One of the ways to get a luxurious home on a budget is to shop in the sales. Be open-minded and look at what's available; you may spot the perfect throw, cushions or curtains. Keep an eye out for any mid-season or sample sales, where you can spot lovely items at much-reduced prices.
Most of us can't afford the items featured in glossy magazines, which are definitely an inspirational but we can use them as inspiration. Just as the high street copies designer fashion, you'll see copies of luxury household items and furnishings in cheaper stores. These will help give your home a luxury look without the accompanying price tag.
Cheap curtains will probably be unlined and soon fade. But there is a way of affording much more expensive curtains – buy them from a resale shop. They'll still be fairly pricey but you'll get beautiful quality that will last a long time. Try the same tactic with furniture – you can often pick up good pieces at auction or from dealers.
Using the right textures and colors will help add that luxurious touch to your home. Look for cushions and throws in luxurious fabrics like faux fur and velvet, which are now available at reasonable prices. Mix rich colors like deep red and purple with accents of gold and silver.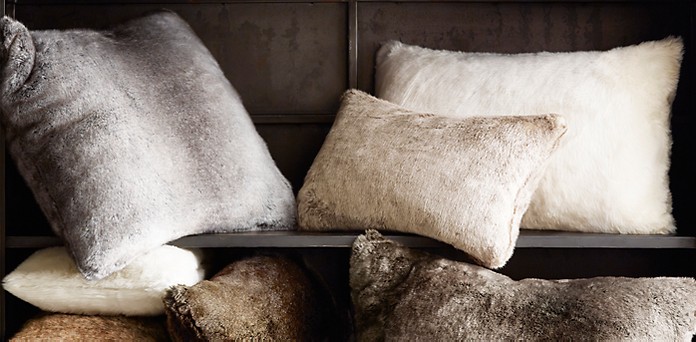 You could also invest in one lovely item to act as a statement piece in the room. This could be a striking piece of art; a framed print could be very eye-catching and act as a focal point. Or cover one wall in an expensive roll of paper and paint the other walls in a matching color.
Items that have been on display in a store are often discounted at considerable rates, so look around and you may find some lovely items that you couldn't normally afford. Everything from curtains to furniture may be sold off cheaply. If you're doing up your kitchen, look for ex-display units and worktops to get a luxury kitchen at much cheaper prices.
Finally, simply changing small details in your house can make an enormous change to how expensive it looks. Think of replacing door and drawer handles with more expensive versions; this is a good way to make budget kitchen or bathroom units look much more expensive.
Even if you don't have the budget of a millionaire, you can still give the impression that your home cost a lot more to decorate than it really did. It's about shopping in the right places and looking for little touches that will enhance the impression of luxury in your home. What would you buy for your home if money was no object?
Hope this help you fix up a part of your room for the holiday's. please leave a comment if this help you.
darkangel689